A systematic review conducted by Wahbey et al.and published in the Journal of Evidence-Based Complementary and Alternative Medicine was carried out in order to assess the effectiveness of various complementary and alternative therapies for PTSD using Natural-Standard evidence-based, validated grading rationale.
The following complementary and alternative therapies were assessed:
REPETITIVE TRANSCRANIAL MAGNETIC STIMULATION
ACUPUNCTURE
HYPNOTHERAPY
MEDITATION
VISUALIZATION
BIOFEEDBACK
RELAXATION
EMOTIONAL FREEDOM
THOUGHT FIELD THERAPIES
YOGA
NATURAL PRODUCTS
Following the systematic review, the above forms of complementary and alternative therapies were placed into one of three categories depending on how strong the evidence was, based on the findings of the review, for their effectiveness;
STRONG EVIDENCE
GOOD EVIDENCE
UNCERTAIN OR CONFLICTING EVIDENCE
RESULTS OF THE SYSTEMATIC REVIEW:
STRONG EVIDENCE WAS FOUND IN SUPPORT OF THE EFFECTIVENESS OF:
REPETITIVE TRANSCRANIAL MAGNETIC STIMULATION
GOOD EVIDENCE WAS FOUND IN SUPPORT OF THE EFFECTIVENESS OF:
HYPNOTHERAPY

ACUPUNCTURE

MEDITATION

VISUALIZATION
UNCERTAIN OR CONFLICTING EVIDENCE WAS FOUND IN SUPPORT OF:
BIOFEEDBACK
RELAXATION
EMOTIONAL FREEDOM
THOUGHT FIELD THERAPIES
YOGA
NATURAL PRODUCTS
Below, I go into a little more detail about the therapies that were found to be supported by either strong or good evidence:
REPETITIVE TRANSCRANIAL MAGNETIC STIMULATION
What Is Transcranial Magnetic Stimulation? :
Transcranial magnetic stimulation is normally abbreviated to TMS. Essentially, this treatment works by delivering short pulses of magnetic energy (which are generated by a handheld device that contains an electromagnetic coil) to specific brain regions. It is a non-physically invasive therapy and the smallish, relatively simple device is merely guided over the relevant areas of the patient's head by the doctor.
Research has already shown that the treatment can significantly reduce depressive symptoms in patients and early indicators are that it may also be of benefit to individuals suffering from the effects of trauma.
In order to help you visualize the simplicity of the procedure, imagine a hair-dryer being moved over the head – the only difference is that, rather than warm air being delivered, essentially painless, magnetic pulses are delivered instead.
HOW DOES TMS WORK?
I have already stated that the procedure is essentially painless (although some patients report that it has induced in them a headache) so the magnetic pulses are delivered whilst the patient is fully conscious. The procedure generally takes about twenty minutes. The magnetic pulses work by altering the way in which the brain cells communicate with each other (or, to put it more technically, the electrical firing between the brain's neurons is altered) in the specific brain regions at which the treatment is directed. Research into the treatment has so far suggested that it may:
reduce symptoms of depression

reduce symptoms of anxiety – reduce the intensity of intrusive traumatic thoughts – help to reduce social anxiety by reducing avoidance behaviors

improve cognitive control

reduce impulsivity

reduce suicidality
POSSIBLE SIDE EFFECTS OF TMS :
Unfortunately, TMS cannot be administered to those individuals who have been fitted with a pacemaker (or, for that matter, have had any other metal implanted in their body). Also, it cannot be administered to those who suffer from epilepsy in most cases.
In rare cases, TMS may induce seizures or manic episodes.
BORDERLINE PERSONALITY DISORDER AND TMS:
According to a systematic review of the relevant literature (published in Psychiatric Research) by Konstantinou and his colleagues (University of Toronto), the effect that TMS has on the brain's circuitry related to symptoms of BPD means it might be a viable treatment option for those suffering from the condition in the future. especially as, in such patients, the treatment appears to be well tolerated. According to the researchers, although it is too early to draw any definite conclusions, TMS may be particularly useful for helping BPD sufferers to control their emotions and reduce their tendency towards impulsivity.
The researchers also point out that further research needs to be carried out to help elucidate which brain areas of BPD sufferers should be targeted by the treatment for optimum results given the patient's pattern of symptoms. They also state the TMS may be most useful when used in conjunction with evidence-based psychotherapy.
Anyone considering the treatment should discuss it with their doctor or other suitably qualified medical professional.
2  HYPNOTHERAPY
A researcher from Stanford University in the United States, David Spiegel, took neuro-images (pictures of brain activity produced from brain scans) of individuals who had been hypnotized in an experiment that analyzed the effects of hypnosis on the physical brain.
In the experiment, the hypnotized individuals (who were all volunteers) were instructed by the experimenter to gaze at various objects. The objects were black and white; however, the volunteers who had been hypnotized were given the hypnotic suggestion that the black and white objects they were gazing at were colored (or 'colored', to use the American spelling of the word!)
Whilst the individuals were looking at the objects, having been given this hypnotic suggestion, the researchers took scans of their brain activity in order to produce the vital neuro-images which would show what was going on physically in their brains. The neuro-images (or brain scans) revealed that the areas of the brain which registered and processed color were activated and had increased blood flow. In other words, the effect of the hypnotic suggestion on the volunteers' brains led to them 'seeing' colors even though the objects were only black and white. It can be inferred from this that hypnotic suggestions can literally change how the brain works.
David Spiegel, the lead researcher in this impressive study, said :
'This is scientific evidence that something happens in the brain when people are hypnotized that does not happen under normal circumstances…there are tremendous medical implications for people being able to use hypnosis for such things as managing their own pain and anxiety…'
EXAMPLES OF HOW HYPNOSIS WORKS :
Below, I provide two, powerful examples that help to illustrate how hypnosis works :
FIRST EXAMPLE OF THE POWER OF HYPNOSIS:
The first experiment was carried out by the researcher of hypnotic phenomenon, Ernest Hilgard, and relates to how people's perception of pain can be altered.
The experiment involved participants placing their arms in a container filled with ice-cold water.
The participants were split into 2 groups as follows:
GROUP 1: These participants had been hypnotized to increase their pain tolerance threshold.
GROUP 2: These participants formed the 'control' group (i.e. they had received no hypnosis to help them to withstand pain).
RESULTS OF EXPERIMENT:
It was found that the participants in group 1 (who had received hypnosis) were able to keep their arms submerged in the ice-cold water for a significantly longer time period than those in group 2 (who had received no such hypnosis).

PRACTICAL APPLICATIONS OF THESE FINDINGS:
Due to the power of hypnosis to lower our perception of pain, hypnotherapy can be very effectively used, for example, to:
– reduce dental pain
– reduce the pain experienced during childbirth
– help alleviate chronic pain conditions (such as arthritis)
SECOND EXAMPLE OF THE POWER OF HYPNOSIS:
The second experiment of interest involved an examination of how our beliefs can affect our bodily responses in extremely surprising ways.
The experiment focused upon individuals who were allergic to a certain kind of plant leaf. Under hypnosis, they were given the posthypnotic suggestion that a leaf the experimenter was shortly going to rub on their hand was from the plant to which they were allergic.
In fact, though, this was intended deception; the leaf was completely harmless to them.
However, when this harmless leaf was rubbed on the back of their hands, because of the posthypnotic suggestion they actually developed an allergic reaction to it in the form of a rash, just as they would have done had the leaf been of the type to which they were actually were allergic.
THE POWER OF THE MIND-BODY CONNECTION :
Both these experiments, and the applications of hypnotherapy also detailed above, serve to indicate the power of the mind-body connection, and how hypnosis is able to enhance its effect.

Self-Hypnosis:
Self-hypnosis may be achieved by creating one's own hypnotherapy recordings (e.g on CDs or as MP4s) or by using hypnotherapy CDs and MP4s which have already been developed by experienced, professional hypnotherapists who are experts in creating them.
THE HYPNOTIC STATE – The hypnotic state that the CD or MP4 creates is best understood as a natural, deep state of relaxation in which the individual becomes very mentally receptive to the beneficial, therapeutic suggestions which are also incorporated into the CD or MP4. These suggestions are referred to as post-hypnotic suggestions as the hypnotized individual only hears them once the hypnotic state has been induced – a state in which his/her unconscious mind can fully absorb them so that they have the maximum positive effect possible.
The two main effects of these post-hypnotic suggestions are to :
1) SPONTANEOUSLY CREATE HELPFUL AND BENEFICIAL BEHAVIOURS
2) FORM A NEW AND BENEFICIAL BELIEF SYSTEM (in relation to the particular problem or difficulty the individual is undertaking self-hypnosis for). The corollary of this is that harmful and damaging behaviors connected to the particular issue are reduced or else eliminated.
ARTICLE CONTINUES AFTER ADVERT:
: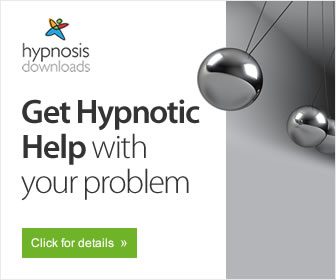 APPLICATIONS OF SELF-HYPNOSIS :
Hypnosis can be effectively applied to any problem area or difficulty in which the brain and central nervous system play a part. This means it can be used to treat an extremely wide range of conditions. Below I give just a few examples :
– problematic habits
– anxiety
– confidence issues
– infertility
– memory enhancement
– pain management
– raising self-esteem
– performance issues
– managing anger
– phobias
– stopping smoking
– losing weight
FURTHER BENEFITS OF THE SELF-HYPNOSIS :
The great benefit of the hypnotic state is that, in it, the therapeutic post-hypnotic suggestions that are made are able to largely bypass the conscious mind, and, therefore, be effectively absorbed by the unconscious mind and thus the greatest beneficial effect.
The deep state of relaxation induced by the hypnosis leads to the pulse and the metabolism slowing down and it is this that allows the unconscious mind to come to the forefront whilst the conscious mind, temporarily, takes a back seat, as it were. (The often over-analytical and over-critical conscious mind loves to throw up problems and create anxieties which often prevents us from dealing with our problems effectively).
By bypassing the conscious mind, and. thus, accessing the unconscious mind, a different way of viewing our problems can be achieved; one that our conscious mind, hitherto, had prevented us from taking. This enables us to finally take control of our problems, as opposed to allowing them to control and dominate us. In other words, we gain a NEW, EMPOWERING PERSPECTIVE – we are no longer impotent in the face of our problems. Psychologists call this shift of perspective that takes place under hypnosis REFRAMING, and I will revisit this exciting phenomenon in later posts.
2  ACUPUNCTURE:
Acupuncture is a classic, traditional Chinese form of medicine that seeks to treat the actual disease rather than just the symptoms. It is believed to affect the body by stimulating the central nervous system causing it to release chemicals into the brain, muscles, and spinal cord producing biochemical changes that may benefit the individual both physically and mentally.
More specifically, in relation to how acupuncture is thought to alleviate the suffering of those diagnosed with PTSD, it is thought that it can have a beneficial effect upon the autonomic nervous system, the prefrontal area of the brain, and the brain's limbic system.
3 MEDITATION:
THE PHYSICAL BRAIN :
The brain – the most complex entity in the known universe – controls our thoughts, moods, behavior, and memories. It is clearly a physical entity, but neuroscientists are still a long way from being able to explain how something purely physical can give rise to conscious experience.
The brain contains about 10 BILLION NEURONS (brain cells) and about 50 TRILLION SYNAPSES (connections between neurons).
The brain is also split into 2 halves (LEFT and RIGHT HEMISPHERES) which are connected by the CORPUS CALLOSUM (a collection of nerve fibers).
The two hemispheres can be further sub-divided into 4 lobes :
– THE FRONTAL LOBES (concerned with reasoning, voluntary movement, planning, emotions, and intelligence)
– THE PARIETAL LOBES (concerned with spatial awareness, sensory information, and body movement)
– THE OCCIPITAL LOBES (concerned with vision and visual memories)
– THE TEMPORAL LOBES (concerned with generating memory and emotions and also with comprehending sounds and images)
THE BRAIN'S EFFECT ON CRITICAL BODY FUNCTIONS :
The CEREBRUM is CONNECTED TO THE SPINAL CORD by the BRAIN STEM and, via this route, AUTOMATICALLY REGULATES VITAL BODY FUNCTIONS such as BREATHING, SWALLOWING, BLOOD PRESSURE, HEARTBEAT, and POSTURE ADJUSTMENTS.
THE CHEMICAL BRAIN :
The brain produces over 50 drugs and chemical reactions within it are continuous: these chemical reactions are linked to the brain's electrical activity and together they are responsible for our behavior, mood, and health. It follows, then, that as the brain's chemistry and electrical activity alter, so, too, does our behavior and mood.
One group of brain chemicals which are of particular interest in connection with our mood and behavior are called ENDORPHINS. Endorphin is, in fact, morphine (a powerful painkilling drug) that is produced within the body itself – it is able to produce analgesia and a general sense of well-being.
FOUR KEY EFFECTS OF ENDORPHINS :
1) improve the immune system
2) relieve pain
3) reduce stress
4) postpone the aging process
Endorphins are not only produced by the brain but secreted throughout the whole body (which underlines the intimate connection between the mind and body).
HOW CAN WE MAXIMIZE OUR PRODUCTION OF ENDORPHINS?
The molecular biologist, Candice Pert, a research expert in this field of study, suggests that the following will help to maximize our production of endorphins :
– daily relaxation
– enjoyable exercise
– 'goalless' recreation (ie recreation we do for its own sake, rather like children at play)
– displays of affection (both public and private)
– guiltless sex
– laughing/humor/sense of the ridiculous
– deep breathing/meditation
– massage
– music
BRAIN CHEMISTRY AND MENTAL / PHYSICAL HEALTH :
Research has demonstrated that severe and long-lasting stress, as well as depression and anger, cause the body to produce chemicals that block healing (both psychological and physical) and even reduce life expectancy. Whereas, on the other hand, the production of endorphins protects us from stress and illness as well as increasing our life expectancy.
THE EMOTIONAL BRAIN :
The neurophysiologist, Paul MacLean, stated that, in effect, we have 'three brains' which are connected to one another but which also process information independently. These are :
1) THE NEOCORTEX – this only exists in humans and the other higher mammals (most recent, and relatively newly evolved)
2) THE LIMBIC SYSTEM – this is the paleo mammalian part of our brain (second part to evolve)
3) BRAIN STEM and CEREBELLUM – this is the reptilian part of our brain (first part to evolve)
I remember, when doing my first degree in psychology at university, we were told that, in effect, this meant that our brains were a part lizard, part horse, and part higher mammalian/human.
Indeed, our rational thought processes, generated by our recent acquisition of the neocortex, can easily be swamped and over-ruled by the more primitive parts of our brain which control our basic, instinctual drives. The three parts of the brain can be seen as being in conflict with one another, or even at war. This echoes Freud's view of the Id, Ego, and Superego being similarly at war with one another, leading to neurosis or psychosis (although there is no room to go into Freud's theory here, unfortunately).
THE AMYGDALA :
It is thought that our most basic instinctual survival drives are centered on the part of the brain called the amygdala. Under stress, this part of the brain can completely disrupt thinking. It responds to both conscious and unconscious perceptions, non-verbal signs of fear and anger, to produce hormones that lead to physical responses of the body including sweating, muscular tension and defensive body postures.
Once aroused, it can completely inhibit rationality and create actions of passion, anger, and violence. Whilst this function served our ancestors well (as they frequently needed to protect themselves from life-threatening attack), in the modern world ( where we are now rarely in physical danger), this very same function is now usually maladaptive (or, to put it another way, can create far more problems than it solves).
THE AMYGDALA, ANXIETY, DEPRESSION, PHOBIA, AND PTSD.
Modern brain scanning techniques show that when the amygdala becomes active it interferes with parts of the brain responsible for processing information rationally. The amygdala also stores emotionally charged memories and, in conditions in which such memories seem to overwhelm the individual, such as can occur in anxiety, depression, phobia, and PTSD, it is now believed the symptoms such conditions generate may be in large part due to a malfunctioning amygdala.
The amygdala is highly sensitive, and, because it works as an INTERNAL ALARM SYSTEM, it can be easily triggered.
FEELINGS AND EMOTIONS ARE PHYSICAL BRAIN PROCESSES :
Knowing the above about the amygdala, we can see that feelings and emotions are essentially 'just' brain processes.
Unfortunately, due to the way various parts of the brain are interconnected, it is much easier for thoughts to turn the amygdala ON than it is for them to turn the amygdala OFF (this is evolution's way of expressing the sentiment, 'better safe than sorry').
THE ELECTRICAL BRAIN :
The brain is an electrochemical processing system. Neurons (brain cells) communicate with one another by the means of tiny electric impulses. There are 4 frequency bands utilized by the brain. These are ;
– DELTA FREQUENCY:  0.1-4 Hz, characterized by deep sleep
– THETA FREQUENCY: 4-8 Hz, characterized by drowsiness, hypnosis, and deep daydreaming
– ALPHA FREQUENCY: 8-13 Hz, characterized by a relaxed but alert mental state
– BETA FREQUENCY: Above 13Hz, characterized by deep concentration and/or anxious thinking
Very recent research has also discovered that much higher frequencies can also be detected, above 40Hz, and even as high as 100Hz. This has been termed GAMMA FREQUENCY. This brand new area of study is of much interest as it is believed that these frequency levels have important implications for our higher mental processes including perception, self-awareness, and insight.  The GAMMA STATE is also associated with deep meditative states in which people report phenomena such as 'feeling at one with the universe' and a 'loss of the sense of the self as a separate entity.
THE IMPLICATIONS OF NEUROSCIENCE FOR UNDERSTANDING THE EFFECTS OF MEDITATION :
Neuroscience has now demonstrated that meditation alters the frequency level at which the brain operates.
Studies have revealed that novice meditators can cause the gamma activity in their brains to increase slightly, whereas expert meditators can produce gamma activity in their brains 30 times stronger and it now seems clear that meditation is one of the ways in which the brain's structure and function can be caused to undergo extremely beneficial change. Indeed, research suggests that meditation can greatly increase activity on the left-hand side of the brain near the front of the cortex (e.g. regions in which activity is correlated with positive emotions such as joy, enthusiasm, and happiness) whilst greatly reducing activity on the right-hand side of the brain (e.g. regions associated with negative emotions such as anxiety and sadness).
Through meditation, then, it is now clear we can train our brains to make ourselves experts in habitually generating positive emotions and feelings of well-being in much the same way that training in a sport like tennis can make us a talented tennis player.
4 VISUALIZATION:
Despite the name of this therapy – 'VISUALIZATION ' – it involves not just the visual sense, but can also make use of the other four senses (touching, tasting, hearing, smelling).
The therapy involves USING and DEVELOPING our IMAGINATION. It is called 'visualization' only because most people find it easiest to imagine SEEING IMAGES IN THEIR MIND'S EYE, compared to using the other senses imaginatively (although this is not true of everyone, of course).
INTERNAL STIMULI VERSUS EXTERNAL STIMULI :
Because this therapy makes use of our power of imagination, it relies on internally generated stimuli as opposed to externally generated stimuli. In this context, we can define these terms in the following manner:
– internally generated stimuli: something that we imagine happening to us
– externally generated stimuli: something that actually does happen to us
SIMILARITIES IN OUR EMOTIONAL AND BIOLOGICAL RESPONSES TO THESE TWO TYPES OF STIMULI :
VISUALIZATION THERAPY can be so powerfully effective because the way we humans respond to vividly imagined events can closely mimic the way in which we would respond, both emotionally and biologically, if the imagined event were actually happening.
I present some examples below:
1) FEAR:
If we intensely fear something that might happen to us, it can feel as bad to us as it would if the feared event actually did happen to us, or, quite possibly, worse. For example, people who commit crimes often describe living in fear of the police knocking on their door ; this can force them to live in such a protracted state of anxiety, with its myriad mental and physical symptoms, that it actually comes as a relief when they finally are arrested.
2) PLACEBO EFFECT:
If a person is given a 'dummy' pill but believes it to be the real thing (eg they are told that the dummy pill is a highly effective headache cure), then the fake pill can be as effective at reducing the symptoms of the headache as the genuine medication. The BELIEF that the pill is real causes the brain to respond in the same way as it would have done to the real tablet.
3) HYPNOSIS:
I remember learning about an impressive study on the power of hypnosis when I was studying for my first degree in psychology at the University of London.
The study demonstrated that if people who have an allergy to a particular plant leaf are hypnotized, close their eyes and are told that the back of their hand is being rubbed with the plant leaf to which they are allergic (when, in fact, it is, in reality, a plant leaf which is completely harmless to the hypnotized individual) some will develop an allergic reaction ( a rash) all the same.
This is because the power of their (erroneous) belief causes their brains/minds/bodies to respond identically to the harmless leaf as they would have done to the harmful leaf.
4) THE FAMOUS EXAMPLE OF THE SUB-FOUR-MINUTE MILE:
Before Roger Bannister, nobody had run a sub-four-minute mile and it was widely believed to be beyond man's physiological capabilities. However, Roger Banister used visualization as part of his training regime and repeatedly saw himself, in his MIND'S EYE, achieving this so far elusive goal.
After he succeeded in running the mile in under four minutes, many other runners also did so soon afterward. This is because, it is theorized after Roger Bannister's achievement there was a change in top runners' mindsets: previously they had believed running a mile in under 4 minutes was impossible, but now they believed it was possible.
Changing their beliefs changed their performance. They had overcome a self-imposed psychological barrier.
5) VISUALIZATION IN RUGBY:
Johnny Wilkinson, the England rugby star, used visualization when taking his kicks: he imagined a coke can placed on the other side of the goalposts which he had to hit.
RESOURCES:
Improve Visualization | Self Hypnosis Downloads
David Hosier BSc Hons; MSc; PGDE(FAHE).
 REFERENCES
Pert, C. Molecules of Emotion: Why You Feel The Way You Feel (Scribner)
MacLean, Paul D. (1990). The triune brain in evolution: role in paleocerebral functions. New York: Plenum Press. ISBN 0-306-43168-8.
Childhoodtraumarecovery.com is reader-supported. When you buy through links on this site, I may earn an affiliate commission.